When Your (Toilet) Bowl Runneth Over
6/25/2018 (Permalink)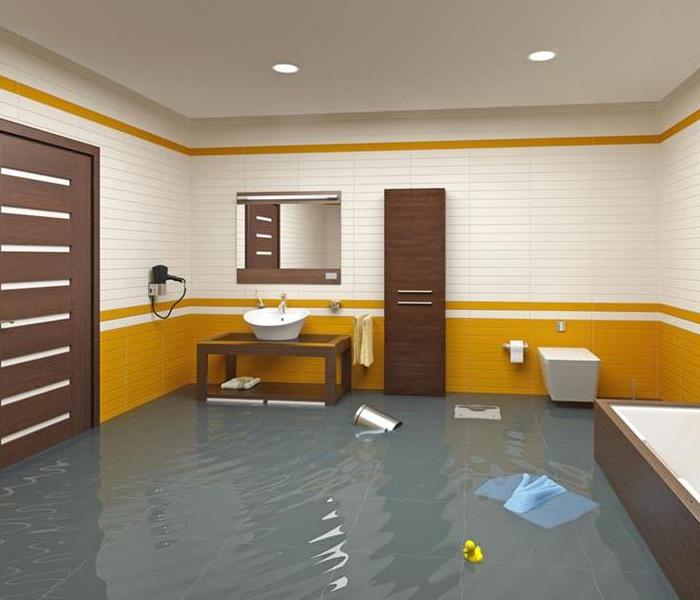 Some people have that lucky cup that "runneth over." You don't have that cup. No, you are on the opposite end of the luck spectrum, and recently you have had a toilet that "runneth over." Of course, this happens at the most inconvenient time, like when you are leaving for work. You take a swing by the bathroom right before you leave. You hear the unusual sound of the toilet filling (but not draining) and then the other unusual sound of splashing as the water hits the floor. Forget about luck. A little knowledge will help prevent sewer damage in your home. Here are the most likely reasons for your spilling sewage:

1. Partial blockage. You may have a partial blockage that allows water to slowly drain. A plunger is all that is needed for the vast majority of flooded toilet problems. If there is not enough water in the bowl, you can open the tank and slowly lift the flapper to get enough water to cover the plunger.

2. Full blockage. The water is not draining at all. Do not flush the toilet again until you clear the drain. While you are on the phone to request help from a sewage company, your four-year-old runs by. It all makes sense now that you recall the earlier conversation about toys going "bye-bye." The plunger may still be effective for this blockage, but a plumbing auger may help you retrieve a less natural blockage, like a swimming dinosaur, from the pipes.

3. Additional drains are blocked. Sometimes the problem lies somewhere beyond the toilet and represents more serious sewer damage. This is the likely explanation if you have had additional warnings such as odors, backups, bubbling sounds, or other drains being affected.

Everyone in Phoenix, AZ will encounter a blocked toilet at some point in time. Learning about the source of the problem can help you make repairs to prevent extensive sewer damage. Thankfully, specialists are able to effectively clean and restore damage from contaminated water.
Visit http://www.SERVPROnorthwestphoenixanthem.com for more information on water damage.